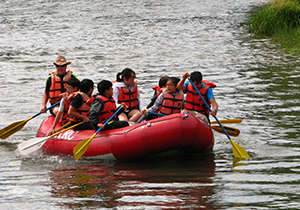 D.J. Tuttle, President of ARC, has been professionally guiding river trips for over 20 years. He's a second-generation professional guide and began his training at 13. He became a paid professional at 15. DJ has logged over 35,000 river miles guiding on multiple rivers in Washington, Oregon, California, and Costa Rica. This company has been his goal and his dream since he began rafting. DJ and his crack team of expert guides are committed to providing you the best trip you can have. Ask for, and expect, only the best from ARC.
ARC is noted for offering a high degree of personal attention to make each trip a truly outstanding experience. Generally, lunch isn't included in our trip packages, in part, to keep prices more affordable. Since most trips last less than three hours, we have found that a lunch stop often isn't appreciated or necessary considering its additional cost. However, if a larger group wishes to include lunch, we work with local caterers to provide food that is tasty and of high quality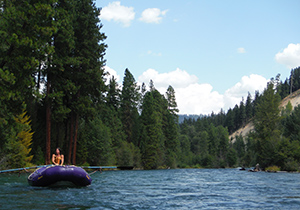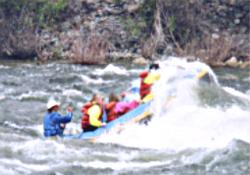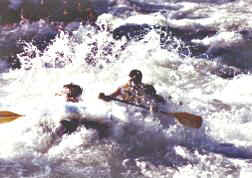 ARC is the Best!
Action Rafting Co. is unique compared to all companies in Washington State.
Our guides are the most experienced and skilled in the industry. Each of our guides has logged the majority of their extensive river miles on the same rivers you're going to raft on with us. Our safety record is impeccable because of the years of river experience and skill each guide has accumulated and the years we've rafted together as a team.

As a small company, we're able to personalize your river experience. There are many diverse events you can experience on rivers with family and friends and we'll assist you in choosing the one that's perfect for your purpose then make it happen. This means that we can give you:

more complete instruction in the sport of rafting.
more opportunities to fully utilize the river as our playground.
less time standing around waiting for lots of people to get ready for more time on the river!

Our bus is the newest you'll see among rafting companies! We're very proud of it; it's clean, comfortable, and dependable. It also has heat and air conditioning for your convenience!
We raft exclusively with self-bailing boats. This is important to you because it means you don't have to bail! If you have a bucket in your hands it's because you're throwing water on somebody!
We have an exclusive, secluded put-in that gives you a glimpse of what this valley looked like 50 years ago. We pull into a meadow of wildflowers and wildlife. This is where we do our safety training before walking down to the beach and launching into our river adventure.
A signed
Liability Release and Assumption of Risk

form is required by Action Rafting Co. from all participants prior to launching on the river.
A copy of this form is available for viewing or printing, look on the menu under 'Waiver' or use the underlined link above. We recommend reading it thoroughly.
Please be sure to tell the Action Rafting representative of any health issues in your group. Tell your guide as well, before leaving shore. Allergies are the most common problem and are very important for us to know.
ARC does not assume responsibility for customers, their property, or for any time or expenses incurred.